Using Social Media to Expand Your Brand
Let's discuss your project
together

!
Think of how often you check your social media accounts over the day, especially on days off. Now multiply that number and begin to see the scope of how many people you can reach from your personal devices. Factor in the ads that appear across Facebook, Instagram, and videos across the internet, and you suddenly have a massive audience for your business.
Social media, now more than ever, is an excellent way to use your resources from any device to keep in touch with your customers and find new ones, too. As more people are spending time on their screens, why not meet them in the comfort of their home from your own?
With a little guidance, you can tap into social media's full marketing potential. Accounts come equipped with excellent monitoring tools. You can track industry trends to see how your company is competing, build brand awareness and increase search engine presence all from your phone. With so many current and target audience members checking their devices, you can bring them all directly to your site through the share of a link.
Keeping in touch with clients and customers has also never been easier or more effective. More than half of consumers will jump to social media to ask questions about your product or service. Why? Because it's fast and convenient for both parties. This gives you the opportunity to have direct conversations with your customers and address their questions quickly and directly.
At the end of the day, social media marketing is a great source for more leads. There are billions of active users across multiple platforms that are within your target!
3 Benefits of Social Media Reporting
We've boiled down the wide benefits of social media reporting to 3 key components.
Create Better Content
As you begin to track pieces of content across platforms, you'll begin to understand how to format your content: how long a post should be, the potential target audience, the most effective type of graphic, and best timing to post. These decisions should not be guesses, which is why Social Media Reporting will help you refine your content creation.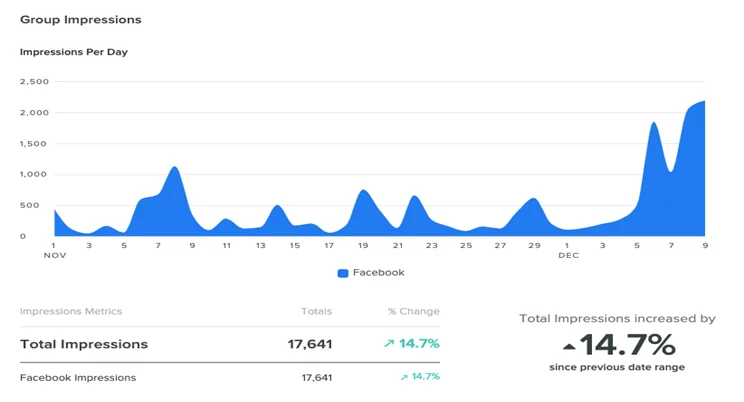 Customized Social Measurement
Every company has different goals. The ability to customize a report and only see the analytics that matter to you is crucial. Some campaigns may only track metrics like Impressions and Engagements while others are only after Conversions. With Social Media Reporting, you can narrow the data down to what is most beneficial for you.
Competitor Analysis
How do you stack up to your local competitors on Social Media? Are you growing each platform at the same rate or faster? What types of content are they posting compared to you? Are their fans more engaged online than yours? These are all questions you should be able to answer from consulting a social media report. Being able to keep an eye on your competitors and make informed decisions will give you the edge and help build your reach.